July Beauty Offer
***Book in for any Manicure or Pedicure treatment and
UPGRADE TO GEL POLISH FOR FREE***
GET READY FOR THE WEEKEND PACKAGE
£30
Gel Nails
Spray Tan
Available every Thursday and Friday
June Beauty Offer
CALLUS PEEL FOOT TREATMENT
20% OFF
(Normally £35, Offer price: £28)
(ADD GEL TOES FOR £5)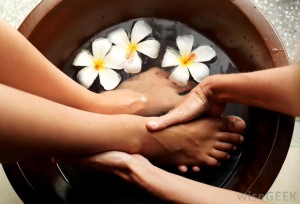 Callus Peel is a peel patch for the feet that has the same reconditioning effect as a facial peel. In a simple process we just apply the patch to soften the skin, and then just scrape away the dead callused skin and moisturise to feel soft, fresh, new skin. This treatment is part of a full pedicure so your feet are completely
and utterly pampered and looking fabulous.
Appointments are available:
Thursdays: 11am – 7pm
Fridays: 10am- 6pm
Saturday 15th June: 9am – 5pm
MARCH BEAUTY OFFER

Following on from the success of the Stress Fix offer in February, we are continuing the theme for March with another treatment from the Stress Fix range….
STRESS FIX FOOT TREATMENT
25% OFF
(Normally £32, Offer price: £24)
*Add Gel polish for £5 extra
This treatment includes a full pedicure using the Stress-Fix product range, as well as the Stress-Fix massage. Our massage is designed to relieve feelings of stress, combining the power of Swedish and deep tissue massage, acupressure and foot reflexology, leaving you feeling utterly relaxed.